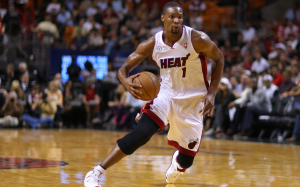 The 2012-13 NBA season has been a breeze for the Miami Heat, but all is not well with one member of the team's "Big Three." According to NBC 6 South Florida, Chris Bosh's Florida home was robbed late Wednesday night, on his birthday no less.
'Out celebrating his 29th birthday'
NBC 6 also reports that $340,000 worth of watches, handbags and rings were stolen from the eight-time All-Star's residence.
The robbery allegedly occurred when Bosh and his wife were out celebrating his 29th birthday. When they returned home, they noticed that some things were missing and contacted the police at 12:30 a.m. ET on Thursday morning.
'No signs of forced entry'
According to the report, police say that there were no signs of forced entry, and big-ticket items such as Bosh's NBA championship ring were left alone, according to the police report courtesy of TMZ.
Bosh's birthday celebration was an extravagant Moroccan-themed affair. Many of his Heat teammates were in attendance, including LeBron James, Dwyane Wade, Udonis Haslem and Juwan Howard, according to JocksandStilettoJill.com.
With no sign of forced entry, do you think somebody close to Chris Bosh could have done the dastardly deed? And off topic — what do you think of his performance in the NBA? Feel free to broadcast your thoughts to the world via the comment box below!
Source: Mike Chiari, Bleacher Report
Image: CBS Sports