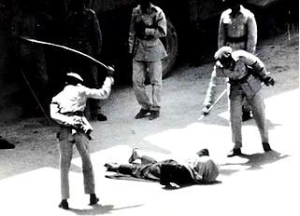 According to Hena Akhter's fellow villagers in Bangladesh's Shariatpur district, the 14-year-old girl was guilty of having an affair with a married man. The punishment: 101 lashes delivered swiftly, deliberately in public. Hena dropped after 70. Bloodied and bruised, she was taken to hospital, where she died a week later.
'Exhumed'
Amazingly, an initial autopsy report cited no injuries and deemed her death a suicide. Hena's family insisted her body be exhumed. They wanted the world to know what really happened to their daughter. Hena was the youngest of five children born to Darbesh Khan, a day laborer, and his wife, Aklima Begum. They led a simple life that was suddenly marred a year ago with the return of Hena's cousin Mahbub Khan.
One winter night, as Hena's sister Alya told it, Hena was walking from her room to an outdoor toilet when Mahbub Khan gagged her with cloth, forced her behind nearby shrubbery and beat and raped her. Hena struggled to escape, Alya told CNN. Mahbub Khan's wife heard Hena's muffled screams and when she found Hena with her husband, she dragged the teenage girl back to her hut, beat her and trampled her on the floor.
'Fatwa'
The next day, the village elders met to discuss the case at Mahbub Khan's house, Alya said. The imam pronounced his fatwa. Khan and Hena were found guilty of an illicit relationship. Her punishment under sharia or Islamic law was 101 lashes; his 201. Mahbub Khan managed to escape after the first few lashes.
Bangladesh is considered a democratic and moderate Muslim country, and national law forbids the practice of sharia. But activist and journalist Shoaib Choudhury, who documents such cases, said sharia is still very much in use in villages and towns aided by the lack of education and strong judicial systems.
Monday, the doctors responsible for Hena's first autopsy faced prosecution for what a court called a "false post-mortem report to hide the real cause of Hena's death." A second autopsy performed at Dhaka Medical College Hospital revealed Hena had died of internal bleeding and her body bore the marks of severe injuries. Police are now conducting an investigation and have arrested several people, including Mahbub Khan, in connection with Hena's death.
What is your view regarding the implementation of the sharia in other countries? Share your insights regarding this horrible happening.
Source: Farid Ahmed and Moni Basu, CNN
Image: Ethics Soup