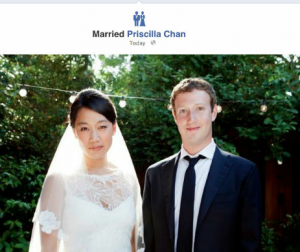 Facebook founder and CEO Mark Zuckerberg updated his status to "married" on Saturday.
Zuckerberg and 27-year-old Priscilla Chan tied the knot at a small ceremony at his Palo Alto, Calif., home, capping a busy week for the couple, according to a guest authorized to speak for the couple. The person spoke only on the condition of anonymity.
Zuckerberg took his company public in one of the most anticipated stock offerings in Wall Street history Friday. And Chan graduated from medical school at the University of California, San Francisco, on Monday, the same day Zuckerberg turned 28, the person said. The couple met at Harvard and have been together for more than nine years, the person said.
Zuckerberg designed the ring featuring "a very simple ruby," according to the person. The ceremony took place in Zuckerberg's backyard before fewer than 100 guests, including Facebook's chief operating officer Sheryl Sandberg. The guests all thought they were coming to celebrate Chan's graduation but were told after they arrived that the event was in fact a wedding.
Rather than his trademark hoodie, Zuckerberg wore a suit for the ceremony, while his bride wore a traditional wedding dress. Food was served family-style and included dishes from the couple's favorite Palo Alto sushi restaurant. The two had been planning the marriage for months but were waiting until Chan had graduated to hold the wedding, the guest said.
Do you like (no pun on Facebook intended) Zuckerberg's change in relationship status? Share your comments with us!
Source: Yahoo News
Image: Death And Taxes