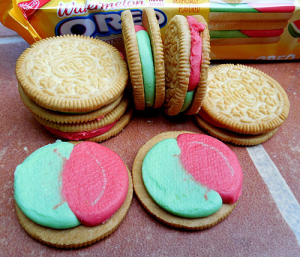 Watermelon in cookie form. The perfect summer food? Nabisco hopes Oreo purists and non-fans alike will be taking a bag of the new, limited edition fruit-flavored cookies to their next picnic.
'New summer flavor'
The Watermelon Oreos, available only at Target (TGT) for $3 a package, feature a bright pink and green creme filling between two vanilla-flavored cookies; the creme bears a strong resemblance to Play-Doh. Two cookies contain 150 calories, 7 grams of fat and 21 grams of carbohydrates.
Food bloggers had plenty to say about the new summer flavor. JunkFoodGuy wrote that he was expecting an "awful fake watermelon smell to come wafting out" but there was none. "As soon as I bit into one of these Limited Edition Watermelon Golden Oreos, I got an immediate light watermelon taste. I'll just say it right off the bat…I liked these. A LOT."



'It's the subtlety'
FoodJunk.com's conclusion: "The vanilla cookies take up most of the space on the flavor profile pie chart. Seventy-five percent or so. But it's the subtlety of the cream that makes the cookie work as a whole. Too much watermelon, and the effort would be a mess."
Oreo itself has a history of limited-edition cookies, which has included gingerbread, candy corn, dulce de leche, birthday cake, Creamsicle, and Shure, Bert, another recent addition.
Have you tried the Watermelon Oreos? Whaddaya think — hit or miss?
Source:  Lisa Scherzer | The Exchange, Yahoo Finance
Image: The World's Best Ever