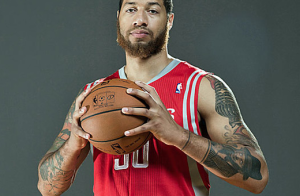 Royce White appears to be a sucker for controversy. Following the Houston Rockets' 107-100 victory over the Oklahoma City Thunder to force a Game 6, White decided to do something he hasn't done all season: support his team. Only his backing came at the expense of Kevin Durant.
'At least he's playing'
Not only has White failed to appear in an actual NBA game all season, but he has spent the better part of the year lobbying for some respect from the league and the Rockets. Now, here he is taking shots at one of the most valuable players in the league. Other tweets immediately followed as White attempted to defend himself against the notion of "at least Durant played":
"@KDTrey5… Y'all are looking SHAAAKYY BAAABYY.

"At least he's playing…" Y'all are funny, Lol. They lost, I'm just saying they looked a LIL SHAAAKYY BAAABYY. Relax, #BeWell#RedNation
'More respect'
It's ironic that White was telling his followers to relax, because that's the same advice I would have offered to him. White isn't playing, isn't a part of Houston's comeback and hasn't given any indication that he is actually, or even wanted to be, a part of the team all season. It's not his place to ridicule the Thunder.
White doesn't have to change—that's his right. But he should be showing more respect to Durant and the Thunder, the team that put the Rockets in a 3-0 hole in the first place. There's no reason for him to be taking proverbial jabs at Oklahoma City or its best player. That's a right he hasn't earned.
What do you think of Royce White's tweet about Kevin Durant — offensive or no big deal? Feel free to sound off in the comment box below!
Source: Dan Favale, Bleacher Report
Image: Ball Over All