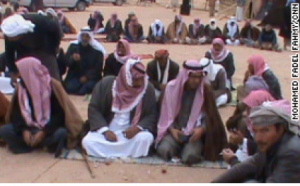 At a meeting last Friday in the south Sinai desert, Bedouin leaders accused the Supreme Council of the Armed Forces of treason against Egypt and warned that — if necessary — they might take up arms to achieve greater representation in the nation's new parliament.
A number of the Bedouins' complaints about the integrity of the electoral process have been challenged in court. One tribal leader, Mohamed Al Ahmar, told the meeting that "we discovered the burnt boxes at Al Tor city in South-Sinai polls containing most of our Bedouin votes! We are not sure who burned them, but it's the military's responsibility." The destruction and burning last week of several ballot boxes prompted an administrative court to order a re-run of voting in parliamentary elections in South Sinai on Saturday and Sunday.
At the recent meeting, some intrepid Bedouin leaders made claims about having smuggled weapons from Libya into Gaza. CNN and Human Rights Watch reported last September about the disappearance of hundreds of surface-to-air missiles from military warehouses in Libya during the uprising against Moammar Gadhafi's government.
But not all those weapons may have gone to the Palestinian territory. The same man claimed Bedouins would turn some of those weapons against Egypt's military-led government unless their demands for deals were met.
There is no way to verify the tribal leader's claims, but an Egyptian national security officer, Usama Emam, told CNN that weapons from Libya and Sudan had arrived in Sinai by sea.
Source: CNN
Image: Njuice