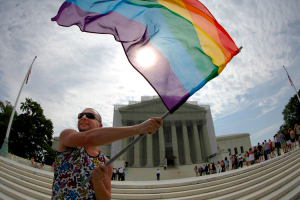 In a big day for gay-rights advocates, the Supreme Court on Wednesday struck down a federal provision denying benefits to legally married gay couples and issued a separate ruling that paves the way for same-sex marriages to resume in California.
'Same-sex marriages to resume'
Cheers erupted on the steps of the high court, as the rulings were handed down. The latter decision did not speak to the constitutionality of gay marriage bans in California, or in the country as a whole. The court avoided a broad ruling, and rather, determined that the defenders of California's Proposition 8 ban on gay marriage did not have the standing to appeal lower court rulings against the ban.  As a result, California is likely to allow same-sex marriages to resume in a matter of weeks. Gov. Jerry Brown has already set that process in motion.
'Unconstitutional'
The more sweeping decision, though, came in relation to the federal Defense of Marriage Act, which the court said was unconstitutional and effectively gutted by ruling against a provision that denied benefits to legally married gay couples.
The 5-4 ruling — a major victory for gay-rights advocates — means those same-sex couples would be eligible for federal benefits. President Obama, who applauded the decision, directed his administration to review "all relevant federal statutes" to comply with the ruling.
The provision in question defined marriage as between a man and woman and in doing so prevented married gay couples from receiving a range of tax, health and retirement benefits that are generally available to married people.
Are you in favor of same-sex marriage? Why or why not?
Source: Fox News
Image: Salon