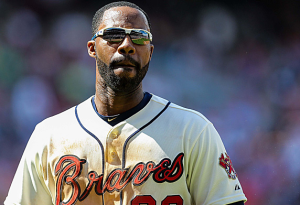 The Atlanta Braves experienced quite a scare during their matinee against the New York Mets on Wednesday at Citi Field as star outfielder Jason Heyward was hit by a Jonathon Niese pitch in the top of the sixth inning.
'Hit in the right jaw'
David O'Brien of the Atlanta Journal-Constitution later reported that Heyward was hit in the right jaw, and he will undergo an X-ray and other tests at a local hospital. The Braves official Twitter feed provides an update on the surgery:
"Heyward will undergo surgery tomorrow (Thursday). The Braves will have an estimated time frame for his return after the surgery."
Heyward was immediately removed from the game in favor of pinch runner Jordan Schafer. Heyward unwillingly took one for the team, but it worked to the Braves' advantage on the scoreboard as a Freddie Freeman RBI single plated Schafer to knot the game at 1-1 in the sixth.
'Key to Atlanta's success'
While Heyward's overall numbers this season don't necessarily jump off the page—he's hitting just .253 with 13 home runs and 37 RBI—he has been red-hot as of late. The 24-year-old is hitting a blistering .359 with four homers and 10 RBI this month, so he will be key to Atlanta's success moving forward.
The Braves will have to move on without Heyward during Wednesday's game, and his status is unclear otherwise. Hopefully for Atlanta, its rising star won't be forced to miss too much time due to this injury.
Do you think Jason Heyward will be able to return to the field soon after his surgery? Feel free to share your speculations with us!
Source: Mike Chiari | Bleacher Report
Image: CBS Sports