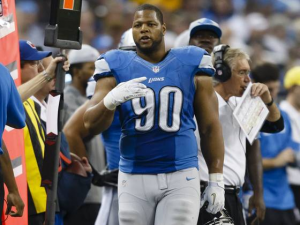 There will be no suspension for Detroit's Ndamukong Suh this year. He got one last year for a stomp of Green Bay's Evan Dietrich-Smith on Thanksgiving. He avoided it this year for a foot to the groin of Houston's Matt Schaub on Thanksgiving.
'Fair decision'
"Our office has notified the Lions that Ndamukong Suh will not be suspended for last Thursday's incident," NFL spokesman Greg Aiello said in a statement. "It will be reviewed for a potential fine."
It was a fair decision. There wasn't concrete evidence from the video that Suh deliberately kicked Schaub where it really hurts. It looked suspicious, but you could just as easily make the case that it was inadvertent, although the NFL hasn't gone that far. If the defensive tackle is fined, then the league thinks something happened. Either way, if you were to tell NFL players, coaches and fans that someone might kick someone else in the groin this upcoming weekend and ask them for the most likely perpetrator, Suh would win in a landslide. That's his now well-earned rep.
'Dirty plays'
We can only imagine what will happen – on purpose or accident – next Thanksgiving. This is the tricky spot the third-year lineman out of Nebraska has found himself in and one that has to be wearing the Lions down.
Lions coach Jim Schwartz remains publicly supportive of Suh, citing his disruptive presence along the line that conventional stats don't record. No one is suggesting he isn't valuable. No one is saying he isn't part of the Lions' future. Still, at some point there has to be more from Suh. More game-breaking plays. More leadership – he remains a loner in the Lions' locker room. Just more maturity, perhaps shown via more stretches of play where he isn't accused of dirty plays that risk suspension.
Do you agree with the NFL's decision about Ndamukong Suh's non-suspension? Do you believe he is a great player despite the controversies?
Image: USA Today