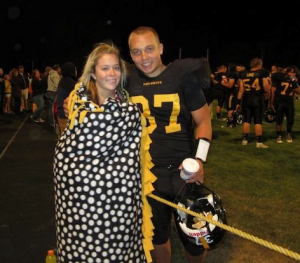 One of Oregon's top Class 4A playoff contenders was forced to play its state quarterfinal playoff game without one of its defensive stalwarts for one of the more bizarre reasons imaginable: His cleats had been deemed too long … a week earlier.
'Pivotal'
As first reported by the Corvallis Gazette-Times, Philomath (Ore.) High linebacker Trent Hardin, a two-year starter for the Class 4A contender, was suspended for his squad's 35-28, season-ending loss to Turner (Ore.) Cascade High. As the final scoreline showed, the absence of Hardin was pivotal.
Yet the legitimacy of Hardin's suspension was certainly up for debate. Hardin was kicked out of Philomath's first-round playoff victory against Sweet Home (Ore.) High at halftime when officials judged the studs on his cleats to be too long for use in a game. With a missed half already under Hardin's belt there was a valid question as to whether there was any reason for him to sit out another full game.
'Harsh verdict'
The decision to ban Hardin came from the Oregon Scholastic Activities Association, which determined that the player's use of illegal, screw-in cleats warranted more than a one-half suspension. That's a harsh verdict for an athlete who had absolutely no idea he was doing anything wrong because even his coach didn't realize that the team couldn't use those elongated cleats.
"I failed in my responsibility to make sure they were properly equipped and I should have," Philomath coach Troy Muir told the Gazette-Times. "It's never been an issue. I never thought it was an issue.
Muir claims that the rest of the Philomath roster immediately discarded any extended cleats they might have had on hand to ensure that no one else would violate the state ordinance against them. Still, that hardly helps Hardin, who may now be the answer to a trivia question. After all, how many players' football careers come to an end because of a cleat violation?
Do you think the suspension verdict for Trent Hardin was too harsh? Before this came to light, did you ever know that elongated cleats weren't allowed in football?
Source and Image: Yahoo Sports