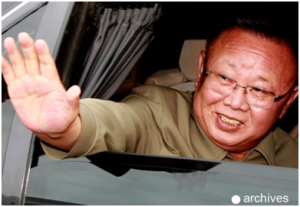 The South Korean government expressed its sympathy to the people of North Korea following the death of Kim Jong Il, South Korea's unification minister said Tuesday.
In a televised press conference, Unification Minister Yu Woo-ik also said Seoul will not send a government delegation to North Korea. However, the South will allow bereaved family members of the late South Korean President Kim Dae-jung and the late Hyundai Group Chairman Chung Mong-hun to visit the North in return for a visit by North Korean delegates to the funerals of the two South Korean figures.
In addition, the South Korean government asked church groups to refrain from lighting Christmas trees near the demilitarized zone between the two countries due to the North's mourning period. The Christmas trees have been deemed a symbol of psychological warfare, and North Korea threatened in the past to retaliate if the South lights the trees.
Meanwhile, Kim Jong Un, the son and successor of the recently deceased North Korean leader, viewed his father's body in Pyongyang on Tuesday, state-run media said, as the world watched for clues on how the leadership transition will play out in the insular dictatorship. Kim enjoyed a cult-like status in the nation, with millions schooled to accept him as a divine and benevolent father figure.
Several of North Korea's neighbors, including Japan, the Philippines and leading ally China, offered condolences to the North Korean people on Kim's death. Chinese President Hu Jintao visited the North Korean embassy in Beijing Tuesday to offer condolences, according to the Chinese state-run news agency Xinhua. The deceased leader's body will remain for a week at the Kumsusan Memorial Palace in Pyongyang, where his father is also interred. Memorial services will follow on December 28 and 29.
Source: CNN.com
Image: EuroNews.net