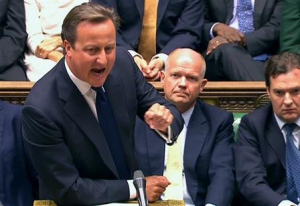 MPs have rejected possible UK military action against Syrian President Bashar al-Assad's government to deter the use of chemical weapons.
'Disappointed'
David Cameron said he would respect the defeat of a government motion by 285-272, ruling out joining US-led strikes. Speaking in Parliament immediately after the vote, the prime minister said:
"It is clear to me that the British Parliament, reflecting the views of the British people, does not want to see British military action. I get that and the government will act accordingly."
Defence Secretary Philip Hammond later told BBC's News night programme he and the prime minister were "disappointed" with the result of the Commons vote which he said would harm Britain's "special relationship" with Washington. But he said he did not expect Britain's decision to "stop any action" by other countries.
'British national interest'
Labour leader Ed Miliband said the result meant military action was "off the agenda", and added that MPs had reacted against the prime minister's "cavalier and reckless" leadership. Mr Miliband said Britain's relationship with the US "cannot simply be about doing what the American president says he wants you to do".
"Sometimes, under my leadership, we'll have disagreements with the United States, we'll take a different view to them, but we've got to operate on the basis of the British national interest," he added.
The defeat comes as a potential blow to the authority of Mr Cameron, who had already watered down a government motion proposing military action, in response to Labour's demands for more evidence of President Assad's guilt.
Should other countries go ahead with the military strike against Syria? What is your stance regarding this controversial issue?
Source: BBC News
Image: Yahoo! News