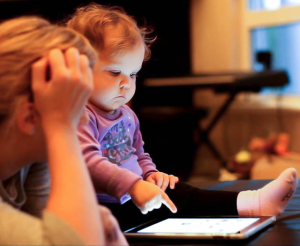 Nowadays, toddlers with the latest game consoles or tablet computers are already a common sighting. It is amazing to note that these little kids somehow know how to figure out the controls of these complicated gadgets. But is letting your child play with electronic gadgets be beneficial to learning or detrimental?
'Flip side'
According to a research from the University of Wisconsin, kids from 2 to 3 years old were more responsive to video screens that prompted them to touch them compared to an ordinary video screen. This could mean that touch screens can help build the educational potential of toddlers.
However, there is a flip side to this. According to psychologist Dr. Aric Sigman, children should be steered away from too much exposure to the screen media because this can lead to addiction or depression. Each child born today will have spent one whole year infront of these screens by the time they are 7 years of age. That thought is admittedly quite staggering.
'Ample balance'
It all comes down to wise usage, good parenting, and discipline. Since it would seem that tablets, iGadgets, and game consoles are here to stay, parents should make sure that they only download apps and software that can contribute to their child's educational learning. Toddlers should be provided an ample balance of indoor and outdoor interactive play time. And computer exposure should be limited to up to two hours daily.
Like any tool, computers and tablets can help children develop confidence and skills, if used properly. So, use it properly.
Do you allow your kids to use electronic gadgets freely? Do you believe it is detrimental to their educational development?
Image: Disruptive Influence