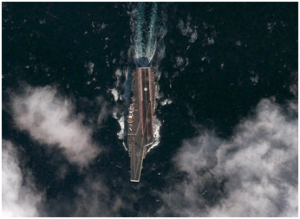 DigitalGlobe Inc., a commercial satellite company, said Wednesday that it took a photograph of China's first aircraft carrier during a sea trial in the Yellow Sea, off the Chinese coast. The Pentagon did not confirm the image, but Stephen Wood, the satellite company's director, said he's confident about the Dec. 8 photograph due to the carrier's location.
Although China insists the carrier is intended for research and training, its use has raised concern about the country's military strength and its increasingly assertive claims over disputed territory. While the development of carriers is driven largely by bragging rights and national prestige, China's naval ambitions have been brought into focus with its claims to disputed territory surrounding Taiwan and in the South China Sea.
Taiwan, the self-governing island democracy claimed by China as its own, has responded to the growing Chinese threat by developing missiles capable of striking carriers at sea. An illustration at a display Wednesday of military technology in the capital Taipei showed a Hsiung Feng III missile hitting a carrier that was a dead ringer for the former Varyag.
Over the past year, China has seen a flare-up in spats with Japan, the Philippines and Vietnam and had its relations strained with South Korea — all of which have sought support from Washington, long the pre-eminent naval power in Asia.
China defends its carrier program by saying it is the only permanent member of the United Nations Security Council that has not developed such vessels and that it has a huge coastline and vast maritime assets to defend. Beijing has also said its carriers would be employed in international humanitarian efforts, although the ex-Varyag's ski jump-style flight deck severely limits the loads its planes can carry.
Source: Fox News
Image: MSN