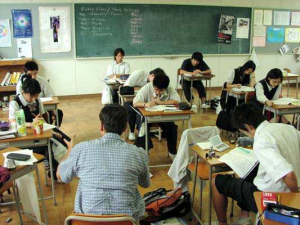 Maybe kids today are already wise enough to see these things, but back when I was in school, it would have been nice to know that …
#5. The Things That Make You Cool Now Mean Nothing After Graduation. It's a sort of social hierarchy that's built around a person's activities, looks, fashion sense and taste in entertainment, a power structure that seems to mean everything for a few years and immediately evaporates within days of graduation.
#4. Not Every Teacher Knows What They're Teaching. When you're a kid, you don't realize that your teachers aren't necessarily any wiser than the average person, and may in fact be undergoing medication for numerous mental illnesses.
#3. No One Gives a Crap About Your Crusades. Remember, most of what matters in here probably doesn't matter out there. It's a bubble where all of the priorities are upside-down — the contest for Prom King is huge, the kid getting terrorized by bullies means nothing.
#2. Pep Rallies Are Commercials. They're not trying to get the team pumped up. They're trying to get you pumped up, because the games need to make money.
#1. Nobody Has Any Clue What They're Talking About. Everybody has an opinion, and never in my life have I heard people so eager to express those opinions than when I was in high school. Eventually, you find that the opinions you used to have weren't actually your opinions at all, but rather a soupy puddle of other people's regurgitated ideas that sounded cool at the time. It's part of growing up.
A few years after graduation, it'll all make sense. Maybe you can pass this article along to your own teenage relatives and watch them roll their eyes. Then you can sit back and watch the cycle start all over again with them.
Source: Digg
Image: Bi-lingual