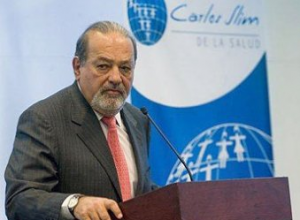 A Mexican telecom mogul who holds the title of world's richest man, and one of President Obama's top donors are both getting even richer from the U.S. government program that supplies so-called "Obamaphones" to the poor.
Carlos Slim, who has an estimated net worth of $70 billion, owns a controlling stake in TracFone, which makes $10 per phone for each device it provides to poor Americans. The company, whose president and CEO is Frederick "F.J." Pollak, also makes money from extra minutes and data plans it sells to subscribers who get phones and service through the government's Lifeline program. The program, which began in the mid-1980s, has exploded in the past four years after being expanded from supplying landlines to the poor to providing cellular phones.
U.S. Rep. Tim Griffin, (R-Ark.), who has been one of the biggest critics of the Lifeline program's explosive growth, recently introduced a bill on Capitol Hill to end the Lifeline program, which cost $1.6 billion in 2011, up from $772 million in 2008. While not technically a tax, the program is funded by mandatory fees tacked on to consumers' phone bills, then disbursed through the Federal Communications Commission and states. Griffin said he has seen cases in which single individuals obtained dozens of the phones, and said under the lax requirements, more than 80 million Americans are eligible.
The FCC announced in July that new reforms saved $43 million in savings by eliminating duplicate subscriptions and outdated subsidies and claims that the agency is on track to recover $200 million for the year. But Griffin said it's time to end a subsidy that gives the poor a luxury item and makes the world's wealthiest man richer.
Do you agree with Tim Griffin that Carlos Slim should be stopped supplying "Obamaphones" to the poor? Feel free to share your thoughts and opinions about this hot topic!
Source: Fox News
Image: France 24