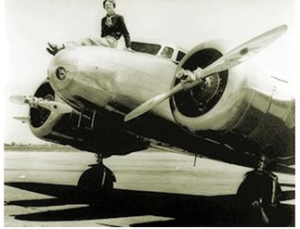 A grainy sonar image captured off an uninhabited tropical island in the southwestern Pacific republic of Kiribati might represent the remains of the Electra, the two-engine aircraft legendary aviator Amelia Earhart was piloting when she vanished on July 2, 1937 in a record attempt to fly around the world at the equator.
'Anomaly'
Released by The International Group for Historic Aircraft Recovery (TIGHAR), which has long been investigating Earhart's last, fateful flight, the images show an "anomaly" resting at the depth of about 600 feet in the waters off Nikumaroro island, some 350 miles southeast of Earhart's target destination, Howland Island.
According to TIGHAR researchers, the sonar image shows a strong return from a narrow object roughly 22 feet long oriented southwest/northeast on the slope near the base of an underwater cliff. Shadows indicate that the object is higher on the southwest (downhill side). A lesser return extends northeastward for about 131 feet.
'Forced landing'
A number of artifacts recovered by TIGHAR during 10 expeditions have suggested that Earhart and her navigator, Fred Noonan, made a forced landing on the island's smooth, flat coral reef. Ric Gillespie, executive director of TIGHAR, and his team believe the two became castaways and eventually died there.
The grainy photo was shot by British Colonial Service officer Eric R. Bevington in October 1937, just three months after Amelia's disappearance on July 2, 1937. It revealed an apparent man-made protruding object on the left side of the frame. Forensic imaging analyses of the picture found the mysterious object consistent with the shape and dimensions of the wreckage of landing gear from Earhart's plane.
The only way to be absolutely sure that the anomaly is indeed Amelia's plane is by sending another expedition to the island, but that will depend upon the ability of TIGHAR, a nonprofit institute that relies upon sponsorships and contributions from the public, to raise the needed funding.
Do you think Amelia Earhart's plane can still be recovered? What could have happened to them during their journey?
Source: Rossella Lorenzi, Discovery News, Fox News
Image: Web Pro News