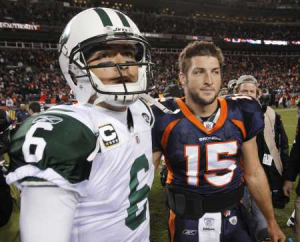 The Tim Tebow faithful are going to have a tough time with this one: The New York Daily News has consulted more than a dozen of Tebow's Jets teammates and officials, and their assessment of The Chosen Quarterback is not a kind one.
'Specialized-use quarterback'
Guard Matt Slauson, who actually had the stones to put his name to his comments, was unequivocal in his support of incumbent quarterback Mark Sanchez, saying the distance between him and backups Tebow and Greg McElroy is "not even close … We don't really have a choice." Oh, and about those backups? "We have Greg … and we have an athlete," Slauson told the Daily News.
The Jets interviewed by the Daily News all played variations on the same tune: Tebow is a gimmick, a specialized-use quarterback, a Wildcatter who wouldn't be able to handle the game-long grind of the quarterback position. Granted, Tebow did have success in Denver, and he does bring those mysterious "intangibles" that somehow help teams to win games.
'Tebowmania that will not die'
But anyone expecting Tebow to step into the starting role anytime soon might want to start saving their wishes for Christmas. "It would take extreme poor play [on the part of Sanchez] like a five-interception game" for Tebow to start, said an individual the Daily News termed "a prominent member of the organization." "Something where it was just ridiculous. It would take Mark to totally just [censored] the bed and become unglued."
Now, the usual caveats about anonymous sources apply here. In this case, anonymity seems less a need to protect one's job, and more a veil to express frustration over the Tebowmania that will not die. Still, until the Jets start winning with Sanchez, the calls for Tebow salvation will continue.
Do you think the negative comments about Tim Tebow have some substance in them? OR are his Jets teammates just jealous of all the attention he's getting?
Image: Sun Sentinel