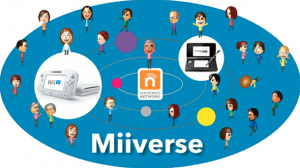 Nintendo Co. has taken the wraps off Miiverse, a social network designed for players of its upcoming Wii U video game console.
Standing in Nintendo's Kyoto headquarters below the company's motto written in Japanese calligraphy that translates to "creating something unique," Nintendo's Chief Executive Satoru Iwata in their video insisted that the Wii U, and Miiverse, will be a game-changer for the console business, which has been in steady decline over the last three years as consumers shift their focus and dollars toward games on smartphones and tablets, as well as social games on Facebook.
"People are gathered together in the same room, but they are not truly connected. They are paying more attention to their devices than to each other," Iwata said. "We have to wonder what this will mean for the nature of human relationships moving forward. So one of the challenges we set for ourselves was creating something that will help unite people rather than divide them."
While users will be able to access Miiverse posts and comments on a browser and mobile devices, its primary use will probably occur on the Wii U console.
Central to the Wii U is a tablet-sized controller with a 6.2-inch touch screen, dubbed the GamePad in a nod to the Nintendo Entertainment System's controller in the 1980s with the same name. The television screen, meanwhile, shows the avatars of other players on the network, clustered around the game titles they happen to be playing at the time. A front-facing camera lets players initiate a video chat, with the person they are talking with appearing on the TV screen.
Iwata said he hoped Miiverse would foster "a new degree of empathy between players. We consider the small screen as the social window…. Miiverse can connect your living room with those of others, regardless of space or time."
Do you like the newly-launched Miiverse? Tell us what you think of this social network!
Source: Los Angeles Times
Image: 3Ds Buzz