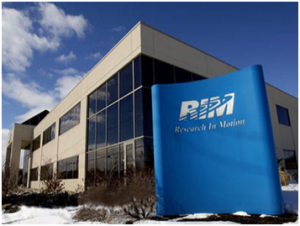 BlackBerry maker Research in Motion (RIM) said that its future platform, BlackBerry OS 10 — the cornerstone of RIM's turnaround plans — will be delayed until late 2012. The company says it is waiting on the development of a special chipset for its new devices.
Shares fell by 8% after hours, even though RIM had already warned investors two weeks ago that its financial results would fall short of the company's earlier expectations. The company blamed its bad third quarter on lackluster demand for its new PlayBook tablet, on consumers opting for cheaper BlackBerry smartphones, and on its three-day service outage.
"The last few quarters have been some of the most trying in the history of this company," said Jim Balsillie, RIM's co-CEO, on a conference call with analysts. "We understand shareholders may feel like we let them down. [Co-CEO] Mike [Lazaridis] and I, as two of RIM's largest shareholders, understand that sentiment."
Balsillie said that he and Lazaridis have decided to take a salary of just $1 a year, effective immediately. Last year, both made $1.2 million Canadian, which was around $1.15 million U.S. at the time. They also each took home a $1.2 million cash performance bonus.
Despite the terrible results, RIM's co-CEOs remained upbeat in their discussion with analysts. BlackBerry's user base grew to 75 million, up 35% from a year ago, they pointed out. They also said that the company is "more determined than ever" to overcome its execution challenges. They preached continued patience and said that RIM's transition to new, improved BlackBerry OS software will slowly gain traction — once it finally releases.
Source: CNN.com
Image: Know Your Mobile