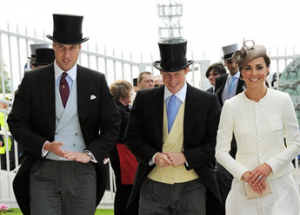 The Duke and Duchess of Cambridge and Prince Harry have once again joined forces – this time, to inspire young people in their official new roles as ambassadors to the British Olympic and Paralympic teams. The Royals are part of a group of 27 other ambassadors named from among Britain's most inspirational and accomplished Olympians from previous games.
Their office at St. James's Palace said the Royals will "use their roles to promote the importance of participation in Olympic and Paralympic sport and encourage greater awareness of the Olympic and Paralympic values." For Kate, the appointment positions her in another major national role after her being a patron for the Princess Foundation.
Among themselves, all three are athletic: William, an avid swimmer, has high hopes to run a marathon, takes part in soccer and rugby, and plays tennis with Kate, 29. She played hockey at school, and still loves the game, as well as tennis. Harry, 27, is a rugby and polo enthusiast.
Andy Hunt, CEO of the British Olympic Association and Team GB Chef de Mission for London 2012 said, "We are delighted… for Team GB that The Duke and Duchess and Prince Harry are supporting their efforts next year, and we hope together we can ensure that the whole of Great Britain and Northern Ireland is behind our athletes in their quest for Olympic success."