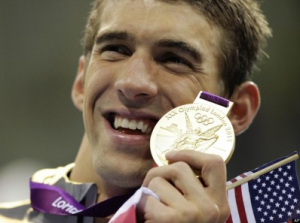 When Michael Phelps left the swimming pool for the last time, he was carrying in his right hand a statue from FINA, the international governing body of swimming. The inscription on the trophy declared Phelps, "The Greatest Olympic Athlete of All Time."
For the third straight Olympics, he is the most decorated swimmer: eight medals in Athens – six gold, two bronze – at the age of 19 in 2004, his "Hello, World" moment; eight more in Beijing – all gold – in 2008, a master at the height of his powers; and now six more in London – four gold, two silver – in a display of both fallibility and resilience that ended with three straight golds.
Phelps could keep competing on a more limited scale and try for Rio de Janeiro in 2016, but no. There is nothing left to prove, no worlds left to conquer, no meaningful records left to break.
There is not a significant superlative Phelps does not own. Most Olympic medals. Most Olympic gold medals. And if, as some say, swimming skews the numbers because of how many medals are awarded, answer me this: What's the record Phelps surpassed? Answer: 12. He didn't just surpass that mark of medals won by an individual swimmer, he nearly doubled it. He's done to the Olympic medal records what Jerry Rice did to NFL receiving records. Fittingly, the final medal came courtesy of the butterfly. It has been Phelps' signature stroke for as long as America has known him.
When he got around to where the American team was sitting, Phelps stepped into the stands and embraced Bob Bowman. There may not be a better or deeper athlete-coach relationship than Phelps and Bowman. In a sport where switching coaches is an eventuality at some point, they were together for 15 years. In many ways Bowman has been the father figure Phelps hasn't had since a very young age, and Phelps is the son bachelor Bowman does not have.
"I love him to death," Phelps said. "I'm thankful to have somebody who cares so much for me. I literally can't thank him enough."
Are you a Michael Phelps fan? What do you think is in store for him after the Olympics? Share your admiration and speculation with us via the comment box below!
Image: Tattle Tailzz