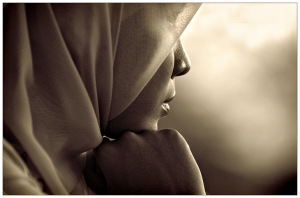 World Hijab Day calls on non-Muslim women to try out life under the traditional head scarf. Can it lead to more religious tolerance and understanding?
'Oppression and divisiveness'
Originated by New York woman Nazma Khan, the movement has been organised almost solely over social networking sites. It has attracted interest from Muslims and non-Muslims in more than 50 countries across the world.
For many people, the hijab is a symbol of oppression and divisiveness. It's a visible target that often bears the brunt of a larger debate about Islam in the West. World Hijab Day is designed to counteract these controversies. It encourages non-Muslim women (or even Muslim women who do not ordinarily wear one) to don the hijab and experience what it's like to do so, as part of a bid to foster better understanding.
'Choose the hijab willingly'
Esther Dale, 28, lives in the US state of California and is another non-Muslim trying out the headscarf for the day. The mother-of-three was told about the event by a friend of hers who is a "hijabi". As a practising Mormon, Dale understands the importance of faith in daily life, and the judgement that can come with the associated clothing. She says she knows the stigma that surround the headscarf and hopes this is an opportunity to help combat that.
The hijab has been a frequent target of criticism from people like Maryam Namazie, a vocal ex-Muslim and campaigner, who sees the garment as a form of oppression. Organisers of this event say they were fed up with seeing the words "oppressed" or "subjugated" when it came to discussing the Muslim head-covering. They reject the notion that women only wear hijabs at the insistence of a father or a radical member of the family. This day, then, is about showing the world that women can choose the hijab willingly.
What are your views regarding modesty and women's clothing? Are you willing to participate in the World Hijab Day to combat the misconceptions and stigma surrounding the hijab?
Source: Catrin Nye, BBC News
Image: Muslim Matters