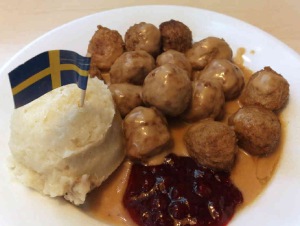 Ikea has withdrawn meatballs from sale in 14 European countries after tests in the Czech Republic found traces of horsemeat in a batch made in Sweden. Meatballs from the same batch had been sold in many states, including the UK, France and Portugal, the retailer said.
'Halting all sales of meatballs'
Ikea's announcement on Monday came after the Czech State Veterinary Administration said horsemeat had been found in 1kg (2.2lb) packs of meatballs manufactured in Sweden and shipped to the Czech Republic for sale in Ikea stores there.
In a posting on its Swedish Facebook page, Ikea first confirmed it was halting all sales of meatballs at its stores in the country. Later, the company announced that meatballs from the affected batch of meatballs had also been sent to Ikea stores in Slovakia, Hungary, France, the UK, Portugal, the Netherlands, Belgium, Spain, Italy, Greece, Cyprus and the Republic of Ireland.
'Traces of horsemeat'
Ikea insisted that it had not found any horsemeat during in-house tests on its own range of food products, carried out two weeks ago, but said new tests would now be carried out.
Also on Monday, the Spanish agriculture ministry announced that traces of horsemeat had been found in beef pasta meals produced by brands owned by Nestle. A statement on the Swiss company's website said it was withdrawing six "La Cocinera" products and one "Buitoni" product from shops in Spain, and that it had halted all deliveries from the meat supplier, Servocar.
Nestle said testing continued across its products, a week after it announced that it was withdrawing two types of beef pasta meals from supermarkets in Italy and Spain which had been supplied by a company in Germany, H J Schypke.
How widespread do you think is this horsemeat affair in Europe? Would you eat "beef" products that contain horsemeat?
Source: BBC News
Image: NPR