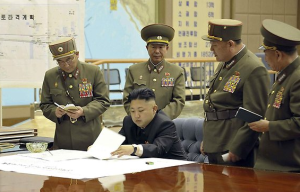 At about the same time every year, North Korea runs low on food and fuel. They then threaten war against the surrounding countries. Everyone settles, attends consultations, provides assistance and then the crisis dies down. How could this year be any different?
'Reckless streak'
For one, North Korea's new leader, Kim Jong Un, has a limited experience in crisis management and this could lead quickly to fatal results. Add to that the fact that the country is now a nuclear weapons state that has successfully tested nuclear weapons, and you have a time bomb waiting to explode any time. And with Kim Jong Un's reckless streak, this situation could quickly go out of control.
Before, the presence of U.S. troops on the Korean border has kept North Korea from attacking the south. But this time around, with a more advanced technology, a missile can be easily launched across the border. And we can only guess what would happen next.
'Lose their cool'
It's a good thing that the U.S. is taking NoKor's threats seriously and has been making firm but calculated show of power that's enough to reassure its South Korean and Japanese allies. But what should be taken in careful consideration is how China will participate in this situation.
If by any chance, South Korea and Japan lose their cool and decide to turn against North Korea and the latter collapses, millions of deprived citizens would rush across the border into China — a situation in which we know China will be reluctant to play nice.
If there is one crucial time for China and the U.S. to conduct a dialogue about handling the North Korean military crisis, now would be the perfect time. Still, we do not know how everything will turn out.
Do you think North Korea will carry out its threats of an attack against South Korea and its allies? Is Kim Jong Un bluffing?
Image: Herald Sun