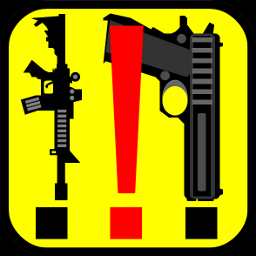 A new Android app asks users to expose the home addresses of gun owners they deem "potentially unsafe" — and share that information with the world.
'Firestorm of negative reviews'
The Gun Geo Marker app, released to Google's Play app store on July 7, invites users to mark the homes and businesses of "suspected unsafe gun owners … to help others in the area learn about their geography of risk from gun accidents or violence."The app bills itself as merely a tool to collect information, but it was hit with a firestorm of negative reviews and comments from people worried that it could do more harm than good.
Brett Stalbaum, the developer of Gun Geo Marker and a lecturer with the Visual Arts department of the University of California, San Diego, said he had received threats over the app.
'Safe use and ownership'
"The gun rights community has been busy making personal threats (we remain unconcerned), as well as spamming the Gun Geo Marker database with false markers," he exclusively told FoxNews.com. "This kind of reaction — automatically lining up on the wrong side of reasonable measures to improve the safe use and ownership of guns — aids and abets the crisis of child shooting deaths," he said.
Google tells FoxNews.com they do not comment on individual apps, but said to refer to their Google Play developer program policies for apps that are not allowed. The policy says Google Play does not allow content that contains violence or hate speech, bullying or illegal activities, among others. Gun Geo Marker is not available on the iPhone.
Does the Gun Geo Marker app bring more harm than good? Feel free to share your thoughts on this issue!
Source: Jeremy A. Kaplan | Fox News
Image: Liberty News