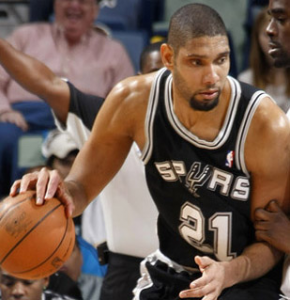 There are unfortunate realities that capped-out NBA teams have to suffer through as they head from one capped-out season to the next. Luckily for the San Antonio Spurs, they finished last season with Tim Duncan, Manu Ginobili, and Tony Parker. And, luckily for Spurs fans, Duncan's willingness to cut his pay in half next season will allow the team to keep all three and retain help for the aging trio.
The massive pay cut Duncan took likely represents the last contract of his NBA career — from $21.16 million in 2011-12 to $9.65 million in 2012-13. It's a move that helps the Spurs vie for a championship in his waning years nearly as much as Duncan's play helped win titles at his  peak. And it didn't go unnoticed by the great Mike Monroe of the San Antonio Express-News:
"After being the third-highest paid player in the league last season, behind only Lakers star Kobe Bryant ($25.24 million) and Boston's Kevin Garnett ($21.25 million), Duncan next season will be the fourth-highest paid Spur."
Money matters to the Spurs, who rarely pay the tax. Duncan's contract also puts the team in a good spot next summer, when it's time to extend Manu Ginobili's contract, and possibly match offers for center Tiago Splitter, who will become a restricted free agent.
None of this cinches the fifth ring of Duncan's illustrious career. But with sound spending and a deep squad the Spurs have a chance. And because Duncan wasn't offended that the Spurs asked that he not approximate his last contract, he'll have a happy and deep team to work with. Seems a fair tradeoff for all involved.
Do you admire Tim Duncan for his sacrificial move regarding his paycheck? Is it a good move for the San Antonio Spurs? Tell us what you think about his new deal!
Image: Black Top Tens