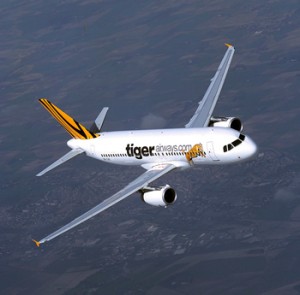 MELBOURNE Australia. Tiger Airways the smallest of three Australian based low cost airlines has had it's accreditation suspended by the The Civil Aviation Safety Authority (CASA), effectively grounding all flights until July 9th, 2011.
A CASA spokesperson stated "CASA believes that by permitting the airline to continue to fly poses a serious and imminent risk to air safety," They also confirmed that "CASA no longer has confidence in the ability of Tiger Airways Australia to satisfactorily address the safety issues that have been identified."
The grounding has affected 35,000 passengers, according to Transport Minister Anthony Albanese. The Minister confirmed the action by CASA had been taken because of "serious and imminent" safety concerns.
On Sunday, Tiger was still in the process of contacting 35,000 passengers to tell them their flights had been cancelled. In the meantime passenger continue to arrive at the terminals around the country unaware of the interruption to their travel arrangements.
Tiger Airways is part-owned by Singapore Airlines Ltd. (SIA), has been barred from flying while CASA investigates two operational incidents. CASA had been closely monitoring Tiger's safety performance all year.
The agency took the unprecedented move on Saturday, after a flight approached a Melbourne airport at too low an altitude late on Thursday. It was the second such breach in a month.
Tiger Airways began flying domestically in Australian in November 2007 as a budget airline by keeping costs and fares low since entering the market by including charges for extras such as food, airport check- in and reserved seating. It's direct competitors are Jetstar a Qantas subsidiary and Virgin Australia, the Australian franchise of the Virgin Group.
The airline operates a fleet of 10 Airbus SAS A320 planes in Australia and is the smallest of three airline groups flying domestic routes.
Australian and International Pilots Association (AIPA) vice president Richard Woodward said on Sunday that he feared that public trust would be eroded every day that Tiger's planes stayed on the ground.
Richard Woodward said "There's no doubt there will be brand damage just by being grounded by the civil authority,". He continued to say that "With a strong parent company behind them in Singapore, I don't think the initial loss of cash flow will be a problem. But it's whether they will have the will to reinvigorate the airline."
If CASA extended the suspension by applying to the Federal Court, it could be terminal for Tiger, Mr Woodward said.
In the meantime Australian domestic air services have again been thrown into chaos in the past few weeks. Firstly,  last week there was the volcano ash cloud from the Chilean volcano eruption and now the grounding of one of the budget airlines. What can be expected next?