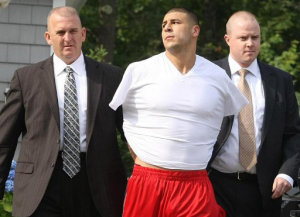 Former New England Patriots tight end Aaron Hernandez has been arrested and charged with first-degree murder after being the focus of the homicide investigation of semi-professional football player Odin Lloyd in an industrial park near Hernandez's home.
'Video evidence'
Hernandez is being held without bail following the announcement of the charges, video evidence of him carrying a firearm and shell casings discovered in his car. Late Wednesday night police placed Carlos Ortiz in custody in relation to the Hernandez case.
The Boston Globe's Wesley Lowery has the latest on Aaron Hernandez:
To be clear: DA's saying #hernandez shot Lloyd three times right after Lloyd got out of the car. Then stood over him & put two in his chest.
"#Hernandez charged with murder and five gun-related charges. Pleas not guilty.

Prosecutor: Police have #Hernandez on tape with firearm and saying "you can't trust anyone anymore" before picking up Lloyd.

Prosecutor says Aaron Hernandez was 'upset' with Odin Lloyd after Lloyd had spoken at a nightclub to people Hernandez 'had troubles with.'"
'Deeply troubling'
NFL spokesman Greg Aiello issued the following statement to NFL Network's Steve Wyche:
'The involvement of an NFL player in a case of this nature is deeply troubling. The Patriots have released Aaron Hernandez, who will have his day in court. At the same time, we should not forget the young man who was the victim in this case and take this opportunity to extend our deepest sympathy to Odin Lloyd's family and friends.'
Do you think Aaron Hernandez is guilty of the charges against him? Feel free to share your speculations with us!
Source: Mike Chiari | Bleacher Report
Image: Sports Illustrated