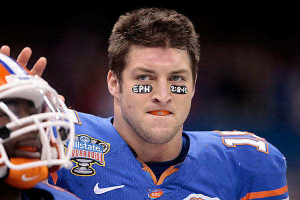 Now that Tim Tebow's departure from the Denver Broncos is a certainty with the Peyton Manning signing, the next question is — where does he go? Several teams have been mentioned as possible destinations, and many teams have inquired about what it would take to pry Tebow loose.
According to Monica Culpepper, wife of former Florida Gators and NFL player Brad Culpepper, Tebow would prefer to head back home to the Sunshine State, where he did so many great things for those same Gators.
Two Florida teams would be good fits for Tebow's services, and in each case, it's for more than football reasons. The Jacksonville Jaguars have had trouble selling out their stadium in recent years, and the Miami Dolphins are enduring one of the most disastrous offseasons in recent NFL memory.
While everyone in the Broncos organization is obviously thrilled that Manning will be their new quarterback, some of Tebow's soon-to-be-former teammates feel badly for a player who did engineer several 2011 comebacks and played well in the Broncos' wild-card playoff win over the Pittsburgh Steelers. Problem is, if it's you against Peyton Manning, you're going to lose that battle unless you're part of a very select group.
Source: Yahoo News
Image: CS Monitor