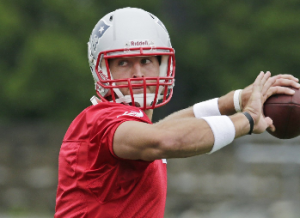 Tim Tebow's skills have eroded so quickly, so shockingly fast—think heavy boulder dropped from low orbit—that it has actually stunned several scouts who have watched him closely for years. The belief is that Tebow has been and will continue to be so bad, that the Patriots will have no choice but to cut him loose from the roster.
'Lack of speed'
Now, just to be clear: None of this is presented as Tebow-bashing or a type of huge exposé. To some, this isn't even shocking. To me, some of this was. Scouts I trust saying Tebow isn't fit to play arena ball?
The reason why is speed. Speed doesn't just kill; speed is currency in football. It's the dollar, the deutsche mark. That lack of speed is evident in three critical phases of Tebow's game: His throwing motion, his mental acuity and his ability to avoid tacklers. It's not simply that he can't do these things now. We knew that. What's stunning, upon closer examination, is the rapidity with which these skills have been lost.
'Blocker'
In the preseason opener against Philadelphia, Tebow was 4-of-12 passing for 55 yards. He was sacked three times and had a passer rating of 49. Then, against Tampa Bay, he had just one completion, an interception and finished with a passer rating of zero.
Scouts say they don't recognize the Tebow they saw in college. His regression has been so steep that I don't believe there is a league he can now play in.
Patriots coach Bill Belichick says Tebow is improving, but no one believes that. There's no way even Belichick believes that. Barring a transplant of Bart Starr's mitochondria into Tebow's synapses, what we are seeing with Tebow is the end. Unless he becomes a blocker.
Do you think this is the end of Tim Tebow's NFL career? Feel free to share your thoughts and opinions with us!
Source: Mike Freeman | Bleacher Report
Image: WCVB