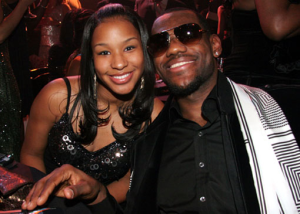 TMZ caught a glimpse of the "Save the Date" cards going out to all LeBron James' buddies, giving us a sense of what's in store for LeBron and his fiancee, Savannah Brinson.
'Destination wedding'

We've obtained a copy of King James' "Save The Date" … which instructs his friends to block out Friday Sept. 13 through Sunday Sept. 15 for the NBA star's destination wedding to fiancee Savannah Brinson in exotic San Diego, CA.

The "Save the Date" even came with a fun caricature of Bron, Savannah and their 2 children … each dressed in their finest wedding outfits. Cute.
'Together since high school'
The report goes on to remind us that those specific dates coincide with the start of Yom Kippur, a Jewish holy day which mandates fasting and prayer.
As for the couple who are exchanging vows in the proud city of Sea World and Ron Burgundy, they have been together since high school and have two children together: LeBron Jr., 8, and Bryce, 5.
We can assume the people getting the "Save the Date" will make this one of the biggest spectacles of the year.
How many high school sweethearts actually end up happy together? Are you all happy that LeBron James and Savannah Brinson are finally going to tie the knot soon? Send your well wishes via the comment box below!
Source: Gabe Zaldivar, Bleacher Report
Image: Gossip Extra