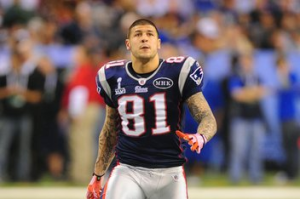 Former New England Patriots tight end Aaron Hernandez has been arrested and charged with the first-degree murder of semi-professional football player Odin Lloyd. Hernandez has been denied bail following the announcement of the charges.
'Not guilty'
TMZ's latest update on Hernandez shows readers a letter the former Patriots tight end allegedly wrote from jail. TMZ claims that this letter is real, but it's worth noting that this is just a report:
Aaron Hernandez wrote a pen pal a letter from inside his jail cell, declaring his innocence, saying his murder charges are God's plan, and vowing to return to the NFL … and TMZ has a copy.

We have verified with law enforcement the letter is the real deal.  You can read it yourself … among the highlights:

— "The world just makes things out of false accusations … and it will all die down, especially when they say NOT GUILTY"



'Prove all the haters wrong'
– "All the people who turned on me will feel like crap."

— "God put me in this situation for a reason."

— "Can't wait to sign [autographs] again when I'm playing again an [sic] prove all the haters WRONG."
Do you think Aaron Hernandez is guilty or not of the charges against him? Would he be able to return to his NFL career?
Source: Mike Chiari | Bleacher Report
Image: SB Nation