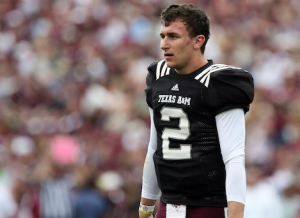 Something frustrated the Texas A&M quarterback and Heisman Trophy winner Johnny Manziel on early Sunday morning, as he tweeted the following before deleting it (h/t Josh Sanchez of Fansided, WARNING: Tweet contains explicit language):
"Bullshit like tonight is a reason why I can't wait to leave college station…whenever it may be"
'Walk a day in my shoes'
Oh boy. That is certainly not what Aggies fans want to see. Realizing how his tweet was going to be received after it hit the Internet this morning, Manziel responded with the following:
"Don't ever forget that I love A&M with all of my heart, but please please walk a day in my shoes"
'Phenomenal'
Manziel was phenomenal in 2012, accumulating over 5,000 yards from scrimmage and accounting for 47 total touchdowns. He was the first freshman in history to win the Heisman Trophy and became a star with his exciting, run-oriented style and catchy nickname, Johnny Football.
He also made headlines last summer when he was arrested after being involved in a fight and possessing a fake ID. And he made plenty of headlines this offseason after pictures surfaced of him on TMZ partying in a Texas club with what looked to be a bottle of Dom Perignon. Manziel is only 20 years old, of course. Like it or not, once you become a star, your personal life becomes public domain. It may not be fair, but that's how it is.
What do you think caused Johnny Manziel's Twitter outburst regarding the Texas A&M? Do you think he'll get in trouble for that?
Source: Timothy Rapp, Bleacher Report
Image: CBS Sports