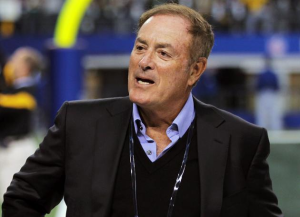 According to a report from TMZ, sportscaster Al Michaels was arrested on Friday night for suspicion of DUI.
'Field sobriety'

Al Michaels — perhaps the most well-known sportscaster in the world — was arrested Friday night for suspicion of DUI … TMZ has learned.

Law enforcement sources tell TMZ … Michaels went through a DUI checkpoint in Santa Monica at approximately 10:00 PM on Friday and when he spoke to officers, they detected an odor of alcohol.

We're told he was pulled over and given a field sobriety and after performing poorly, he was placed under arrest. Michaels was released from jail at 4:15 AM on Saturday on his own recognizance.
'Reportedly cooperative'
Via TMZ's report, Michaels posted a ".08 and a .09 in two breathalyzer tests." The legal blood-alcohol content in most states is 0.08. He was also reportedly cooperative with law enforcement agents.
Michaels is one of the most famous sports announcers in the country and currently handles the play-by-play duties for the Sunday Night Football broadcasts alongside former NFL player Cris Collinsworth, a post he took in 2006.
Do you think NBC should take some disciplinary action against Al Michaels for getting arrested for DUI? Or should they just give the man a break?
Source: Timothy Rapp, Bleacher Report
Image: NY Daily News