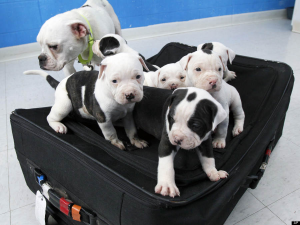 An Ohio man has been charged with animal abandonment after Humane Society authorities matched his name with a suitcase in which the six puppies had been trapped. The suitcase, allegedly belonging to Howard Davis, 53, had been left next to a garbage can in a Toledo alleyway.
The puppies were discovered after someone noticed their mother pacing around the closed suitcase. Toledo Area Humane Society spokeswoman Cyndi Condit told Reuters that Davis lives only two blocks from where the puppies were found.
"Howard's name was on the tag of the suitcase and the mother was licensed to him," Condit said.
If convicted, Davis faces a maximum sentence of 90 days in jail and a $750 fine. Davis claims the suitcase was stolen from him and that he had given the dogs to a friend in Michigan. Over the next four weeks, the three male and three female puppies will remain with their mother before they are eligible for adoption. But they also have a job to do in the meantime: literally serving as evidence against Davis.
"It's unfortunate he chose to abandon the dogs," said Humane Society's executive director John Dinon. "If he had just called us and said he couldn't care for them, we would have taken them and he wouldn't have been charged with a crime."
Source: Yahoo News
Image: Paw Nation