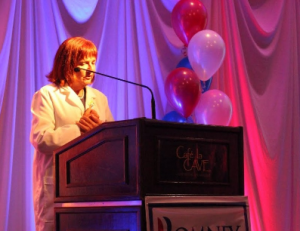 She's a former nun, an Army major, a lawyer, a college professor and a physician. Now Dr. Barbara Bellar wants to be a state senator from Illinois, and she has one question about ObamaCare: "What the blank could possibly go wrong?" Bellar asks, tongue in cheek, after delivering a one-sentence indictment of President Obama's health care law.
Bellar, a Republican candidate running for office in the state's 18th district, gave the extended one-liner while warming up the crowd at a recent event for GOP presidential nominee Mitt Romney. Someone captured it on video, and now the doctor's diagnosis of the Affordable Care Act is an Internet sensation with more than 2 million views.
"So, let me get this straight. This is a long sentence," Bellar begins. "We are going to be gifted with a health care plan that we are forced to purchase, and fined if we don't," Bellar continues, "signed by a president who smokes, with funding administered by a treasury chief who didn't pay his taxes, by a government which has already bankrupted Social Security and Medicare, all to be overseen by a surgeon general who is obese, and financed by a country that's broke."
Bellar then launched into a longer speech, but the friendly crowd at the event dubbed "Women for Romney/Ryan," was already in the palm of her hand.
The title of senator would be just the latest entry on an interesting and lengthy resume. Bellar was a Benedictine nun for nearly five years, although she left before she completed her final vows. She is a major in the U.S. Army Reserves, runs a family medical practice, teaches part time at both Benedictine and DePaul universities and practices law.
What are your views regarding ObamaCare? Would you vote Dr. Barbara Bellar for Senator? Share your views and opinions with us!
Source: Fox News