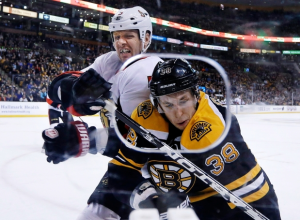 After the horrific tragedy that took place on Monday at the Boston Marathon, the Boston Bruins have decided to postpone their game against the Ottawa Senators.
'Important matchup'
The two teams were set to play at 7 p.m. ET in TD Garden in an important matchup with only six more games remaining in the regular season. Ottawa holds only a one-point lead over the New York Islanders for the sixth spot in the Eastern Conference. However, the tragic events across town have changed these plans.
'Focus on the safety'
On Monday afternoon, two separate explosions went off near the finish line of the Boston Marathon, resulting in multiple casualties and countless injuries among those involved in the event (via CNN). The Boston Globe has reported that there have been "more than 100″ injured, while the Boston Police Department reported that there have been at least two deaths as a result of this tragedy.
All of this occurred on Patriots' Day, a holiday in Boston that annually features the Marathon, a home game for the Boston Red Sox and other events around the historic city.
By postponing the Bruins game, people in the area will be able to focus on the safety of themselves, their family and their friends. There is no current information on if or when the Senators-Bruins matchup will be rescheduled.
When do you think will the Senators-Bruins matchup commence? Which team are you rooting for?
Source: Rob Goldberg, Bleacher Report
Image: The Gazette