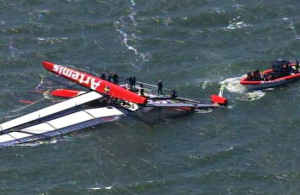 One person is confirmed dead after a tragic capsizing of a 72-foot Artemis Racing boat during a training run for the America's Cup in San Francisco. The America's Cup Twitter feed has confirmed that it was Andrew Simpson, an Olympic gold medalist, who was fatally injured today.
'Submerged for quite some time'
According to the Mercury News' Julia Prodis Sulek, all 11 members of the crew were found, though their statuses have not been publicly released. Simpson was submerged for "quite some time" in the water before rescue workers could arrive.
'First training run'
NBC Bay Area reporter Stephanie Chuang later reported that paramedics had stopped performing CPR on Simpson, who was taken to the St. Francis Yacht Club for further assistance.
The Artemis Racing team, based in Sweden, arrived earlier this month for its first training run for the impending America's Cup races. They are one of four teams entering the storied event this year, which will begin on July 4. This particular vessel was a member of the AC72 crew, which relates to the yacht's waterline length.
Why do you think the Artemis Racing boat capsized? Do you think Andrew Simpson could have lived had he been rescued earlier?
Source: Tyler Conway, Bleacher Report
Image: ABC News