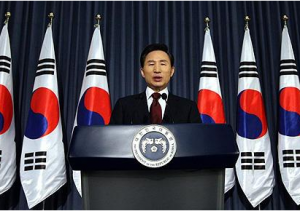 The South Korean president, Lee Myung-bak, offered Monday to cooperate with North Korea to begin a "new era" of relations between the two countries, a day after Pyongyang had said it would defend its new leader, Kim Jong Un, to the death.
The president said in a live televised broadcast that the South is prepared to offer economic aid to the North, if Pyongyang is willing to give up its nuclear program. But he emphasized that Seoul will keep up its guard against any aggression from its unpredictable neighbor. Lee's remarks may fall on deaf ears in Pyongyang, which has recently directed a barrage of invective at his government.
North Korea published a New Year's editorial Sunday in which it described the 28,500 U.S. troops stationed in South Korea as the main obstacle to peace on the peninsula. The editorial also called the South Korean government "traitors" for not allowing more citizens to visit the North to pay respects to Kim Jong Il, who died on December 17.
Kim's elaborate funeral and memorial service, held by the North last week, appeared to cement the position of Kim Jong Un, his son and chosen successor, as the country's new "supreme leader." But the change in leadership has not so far brought any signs in a change in the regime's stance toward South Korea. The North Korean state-run media KCNA on Friday quoted a National Defense Commission statement saying that Pyongyang would have "no dealings" with Lee's government.
Source: CNN.com
Image: The Telegraph