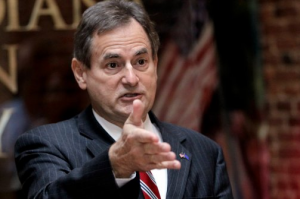 When Richard Mourdock delivered his notorious answer about rape and abortion, the moderator should have followed up with these questions: "OK, Mr. Mourdock, you say your principles require a raped woman to carry the rapist's child to term. Would you pay her medical expenses? Compensate her for time lost to work? Would you pay for the child's upbringing?"
'Most important issue'
If you're serious about reducing abortion, the most important issue is not which abortions to ban. The most important issue is how will you support women to have the babies they want. As a general rule, societies that do the most to support mothers and child-bearing have the fewest abortions. Societies that do the least to support mothers and child-bearing have more abortions.
Germany, for example, operates perhaps the world's plushest welfare state. Working women receive 14 weeks of paid maternity leave. The state pays a child allowance to the parents of every German child for potentially as many as 25 years, depending on how long as the child remains in school. Maybe not coincidentally, Germany has one of the lowest abortion rates, about one-third that of the United States. Yet German abortion laws are not especially restrictive.
'One overwhelming reason'
These trends should not surprise anyone. Women choose abortion for one overwhelming reason: economic insecurity. Abortion is a product of poverty and maternal distress. A woman who enjoys the most emotional and financial security and who has chosen the timing of her pregnancy will not choose abortion, even when abortion laws are liberal. A woman who is dominated, who is poor and who fears bearing the child is likely to find an abortion, even where abortion is restricted, as it was across the United States before 1965.
So maybe at the next candidates' debate, a journalist will deflect the discussion away from "what if" and instead ask this: "Rather than tell us what you'd like to ban, tell us please what you think government should do to support more happy and healthy childbearing, to reduce unwanted pregnancies and to alleviate the economic anxieties of mothers-to-be?"
Do you agree that abortion stems from poverty and maternal distress? Feel free to share with us your views about abortion!
Source: CNN
Image: The Daily Beast