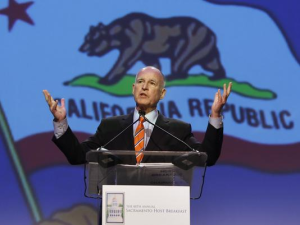 California Gov. Jerry Brown signed a controversial bill into law Monday afternoon allowing the state's transgender public school students to choose which bathrooms they use and whether they participate in boy or girl sports.
'Cut down on bullying'
Supporters say the law will help cut down on bullying against transgender students, The families of transgender students have been waging local battles with school districts around the country over what restrooms and locker rooms their children can use.
While California is the first state to pass a law of this magnitude, Massachusetts, Connecticut, Washington and Colorado have all adopted policies designed to protect transgendered pupils.
'Warps the gender expectations'
Not everyone is on board. Opponents of the bill say allowing students of one gender to use facilities intended for the other could invade the other students' privacy.
Randy Thomasson, of savecalifornia.com, says the law would "damage" kids.
"This radical bill warps the gender expectations of children by forcing all California public schools to permit biological boys in girls restrooms, showers, clubs and on girls sports teams and biological girls in boys restrooms, showers, clubs and sports teams," Thomasson said. "This is insanity."
Are you in favor of the signing of the California transgender-student bill? Why or why not?
Source: Fox News
Image: USA Today