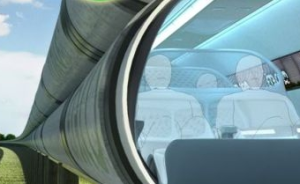 Elon Musk wants to revolutionize transportation. Again. The serial entrepreneur envisions a future where mag-lev trains in enormous pneumatic tubes whisk us from Los Angeles to New York in 45 minutes.
'Better solution'
The engineering behind the Hyperloop is similar to the old-school pneumatic tube systems used by banks to suck your deposit to the teller at the drive-through. But naturally, it's more complicated than that. A massive vacuum tube — mounted either above ground or even under water — would be combined with a magnetic levitation system used on conventional bullet trains. That means no friction, no wind resistance, no chance of collisions, and insanely high speeds.
Musk's interest in the idea was sparked after researching California's new high-speed rail project and realizing that it will be the slowest and — at $70 billion — the most expensive system on the planet. To his mind, there's a better solution. The Hyperloop is it. And one firm unaffiliated with Musk is in the early stages of development.
'Space travel on Earth'
ET3, a company based in Longmont, Colorado, is working on a Evacuated Tube Transport (ETT) system, which it describes as "space travel on Earth." It uses two tubes — one for each direction — with 400-pound, passenger car-sized capsules that could house six people, each accelerated by linear electric motors. According to ET3, state trips would average speeds of around 370 mph, while international trips would hit that insane 4,000 mph mark.
When asked about partners, Musk said he's "happy to work with the right partners. Must truly share philosophical goal of breakthrough tech done fast & w/o wasting money on BS."
Do you think we will be zooming back and forth the world via the Hyperloop vactrain in no time? Feel free to share your feedback with us!
Source:  Damon Lavrinc | Wired, CNN Travel
Image:  Dvice