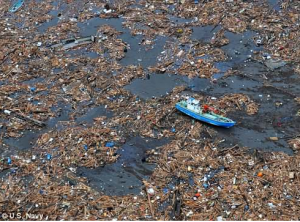 Lumber, boats and other debris ripped from Japanese coastal towns by the tsunamis last year have spread across some 3,000 miles (4,828 kilometers) of the northern Pacific, where they could wash ashore on the U.S. west coast as early as a year from now.
The National Oceanic and Atmospheric Administration estimated the first items of tsunami debris will make landfall soon on small atolls northwest of the main Hawaiian Islands. Other pieces were expected to reach the coasts of Oregon, Washington state, Alaska and Canada between March 2013 and March 2014.
NOAA's tsunami marine debris coordinator, Ruth Yender, told an online news conference Tuesday that agency workers were boarding Coast Guard flights that patrol the Hawaiian archipelago. NOAA also asked scientists stationed at Midway and other atolls to look for the debris.
One to 2 million tons of debris remain in the ocean, but only 1 to 5 percent of that could reach Hawaii, Alaska, Oregon, Washington state and Canada's British Columbia. The tsunamis generated a total of 20 million to 25 million tons of debris, including what was left on land. Yender said that so far, no debris confirmed to be from the tsunamis has landed on U.S, shores, including large buoys suspected to be from Japanese oyster farms found in Alaska last year. The buoys would have had to travel faster than currents to get to Alaska at that time if they were set loose by the March 11 tsunamis.
Yender said there is little chance of any debris being contaminated by radiation. The debris came from a large swath of Japan's northeastern coast, not only near the tsunami-damaged nuclear power plant in Fukushima. Further, it was dragged out to sea with the tsunamis, not while the Fukushima plant experienced multiple meltdowns.
Source: Yahoo News
Image: The Independent Sentinel