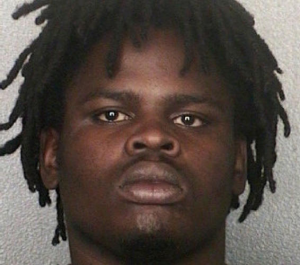 Quartavious Davis is still shocked by what happened to him in federal court two months ago. Davis would occupy no place at all in the annals of crime if not for his sentence. Now 20 years old, he was sentenced to 1,941 months – almost 162 years – in prison without the possibility of parole.
Davis was convicted of participating in a string of armed robberies in the Miami area in 2010. His accomplices testified against him, saying he carried a gun during their crimes and discharged it at a dog that chased them after one of their burglaries. But Davis was not convicted of hurting anyone physically, including the dog.
Davis's unusually long sentence results from a controversial practice known as "stacking," in which each count of an indictment is counted as a separate crime, thus transforming a first-time defendant into a "habitual criminal" subject to multiple sentences and mandatory sentencing guidelines.
"Any law that provides for a mandatory term of imprisonment for a 19-year-old first offender that exceeds a century has got to be unconstitutional," said Michael Zelman, the court-appointed attorney who represented Davis at his trial. Zelman resigned from Davis's case after filing a notice of appeal. If Davis's new lawyer, Jacqueline Shapiro, has her way, the Supreme Court may ultimately decide the issue. The case will be appealed first to the Eleventh Circuit Court of Appeals in Atlanta.
Until then, Davis's story will be a prominent case in point for both sides in an increasingly heated debate, pitting those who would protect society from the prospective dangers posed by serial criminals against those who see the United States – whose overcrowded prisons house fully one-quarter of all the prisoners in the world, most of them black – as a bastion of injustice.
Considering that Davis was a first offender, do you think that his sentence was cruel and unjust? What reforms should be done about cases like this?
Image: The Star