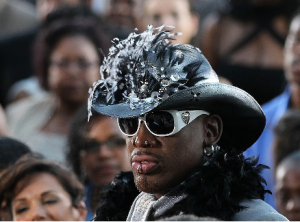 Clearly, Dennis Rodman is a man with few worlds left to conquer. So, like a true citizen of the world, he's heading to North Korea as part of a new documentary series.
'Unlikely ambassador'
From the Associated Press:
Flamboyant former NBA star Dennis Rodman is heading to North Korea with the VICE media company — tattoos, piercings, bad-boy reputation and all.

The American known as "The Worm" is set to arrive Tuesday in Pyongyang, becoming an unlikely ambassador for sports diplomacy at a time of heightened tensions between the U.S. and North Korea.

Rodman, three members of the Harlem Globetrotters basketball team, a VICE correspondent and a production crew from the company are visiting North Korea to shoot footage for a new TV show set to air on HBO in early April, VICE told The Associated Press in an exclusive interview before the group's departure from Beijing. […]
'Odd pairing'
Rodman is undoubtedly an odd choice to visit an American enemy that tested a nuclear bomb two weeks ago, but choosing him to head up a supposed diplomatic tour is also very much in line with the irreverent VICE brand. They will put together an odd pairing to get attention, and Rodman does that job. Watching him and a few Globetrotters play against North Korean basketball stars is going to be goofy, but it should make for good television.
In fact, it's likely that this project will go down as one of the most worthwhile things Rodman has been part of in years. He might not solve any diplomatic crises, but he will help teach a new audience about a nation that people rarely get to see.
Will you be following Dennis Rodman's journey to North Korea? Do you think this move will yield positive results between the two countries?
Source: Eric Freeman, Yahoo Sports
Image: Deadspin