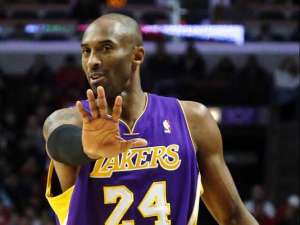 The Black Mamba's posts to Twitter were noticed by just about everyone remotely interested in the NBA playoffs this weekend. They even managed to catch the attention of coach Mike D'Antoni.  Kobe Bryant's tweets from his bed were somehow becoming a distraction, so he is going quiet.
'Just bored'
"I see my tweeting during the game is being talked about as much as the game itself. Not my intention , just bored as I guess #notagain"

"To tweet or not to tweet.. I CHOOSE not 2. Focus should be on the team not my insight. @georgelopez voice "Can't DO nothin!" #vinospeare"
As was reported by the Los Angeles Times' Bill Plaschke, Bryant was quite the Chatty Cathy on Twitter during the Lakers' eventual loss to the Spurs on Sunday. Coach Vino became Fan Vino, a transition that had fans laughing and one particular coach rolling his eyes (via Plaschke).
'Non-Steve-Blake-like numbers'
D'Antoni may not enjoy the tweets, but I join the multitude of observers who do, because while the Lakers season comes to an assumed end shortly, we might as well have as much Mamba as we can get.
Still, Bryant's tweets were by far the most interesting aspect of a season gone awry. The Lakers, a team that was supposed to waltz to the NBA Finals at the beginning of the season, are now counting on Steve Blake to put up non-Steve-Blake-like numbers and Pau Gasol to do his best impression of Magic Johnson for the rest of the postseason.
What do you think should be the best move for Kobe Bryant in this dilemma — to tweet or not to tweet?
Source: Gabe Zaldivar, Bleacher Report
Image: USA Today