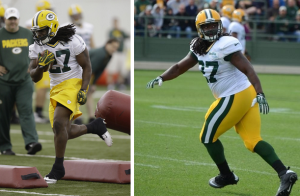 Green Bay Packers running back Eddie Lacy looks like he put on a lot of weight quickly, or this is just a really bad photo of him.
'Looking rather large'
According to David Woods of The Score, the photo on the left is from OTAs earlier this year, and the photo on the right of Lacy looking rather large is from training camp this week. The photo was originally posted on Packers.com before being passed around Twitter on Monday.
'Bad angle'
In an interview with the Milwaukee Journal Sentinel from July 13, Lacy might have given an explanation for his apparent weight gain.
In Green Bay, Lacy admitted, he's been splurging too much on fast food. During off-season practices, he weighed in at 238 pounds, a high number that, believe it or not, might be kind.
Even if the photo is just a bad angle, it's clear that Lacy has gained some weight.
Do you think Eddie Lacy is too fat in this photo and therefore should makes some move to lose weight? Will a 'fat' Lacy be a disadvantage for the Green Bay Packers? Share your thoughts and opinions with us via the comment box below!
Source: Ken Dorset | Bleacher Report
Image: The Big Lead