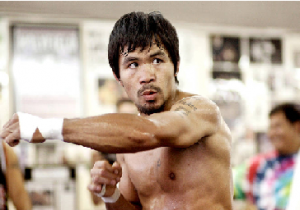 Manny Pacquiao was upstairs in the bedroom of his suite at the MGM Grand over the weekend, catching a nap after a long day of giving a deposition in a defamation lawsuit he filed in 2010 against fellow superstar boxer Floyd Mayweather Jr.
It wasn't until the subject of a potential bout with Mayweather came up – the topic that no one fails to raise with him – that he seemed to awaken. Suddenly, Pacquiao shook the sleep from his eyes to defend himself against an incessant Mayweather campaign that has painted him as a reluctant warrior.
In the weeks before Mayweather announced Jan. 31 that he would fight Miguel Cotto at the MGM Grand Garden on May 5, Mayweather waged a public campaign for a bout with Pacquiao. He posted on Twitter and spoke at news conferences, using every opportunity to make it seem that Pacquiao was avoiding the big match and made a big deal of Pacquiao turning down a $40 million guarantee to fight him. But Pacquiao said that was simply a bluff, a public relations stunt that didn't bear any semblance to reality.
"He offered me $40 million, and no pay-per-view [money]," Pacquiao said, breaking into a laugh. "No pay-per-view. Can you believe that? Would you do that? Come on. What would he say if I offered him $50 million – not $40 million, $50 million – and said 'No pay-per-view. Take this money and be happy, but no pay-per-view.' He wouldn't do it, either."
The fight, if it ever happens, would pit the two best fighters and the two biggest draws in the sport against one another. It would likely generate more than $160 million in pay-per-view revenue in the U.S. alone.
Source: Yahoo News
Image: Tastemaker Flavor