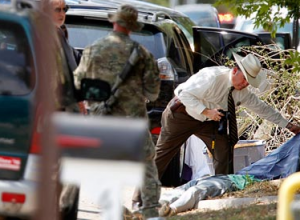 A Texas constable and two others were shot dead Monday in about a half an hour of gunfire near Texas A&M University, police said.
Scott McCollum, assistant chief with the College Station police department, told reporters Monday afternoon that the three people killed were a Brazos County constable, the man authorities say exchanged gunfire with law enforcement officers and a male civilian. The city of College Station on Monday night identified the suspect at the center of the standoff as 35-year-old Thomas Caffall. As to the third victim, described as a "civilian bystander," he was identified as 43-year-old Chris Northcliff of College Station.
Four others suffered injuries in the roughly 30-minute ordeal after law enforcement officers arrived at a residence a few blocks from the Texas A&M campus. They included College Station police Officer Justin Oehlke, who was shot in the calf, and two other officers — one of whom refused transport to an area hospital — who suffered "non-life-threatening injuries," McCollum said. A 55-year-old female civilian who was shot was undergoing surgery Monday afternoon at a hospital, according to the assistant police chief.
He explained that police got a call shortly after 12:10 p.m. from a citizen indicating shots had been fired in the residential area just south of the university campus. He added that the constable had gone to the residence to deliver an eviction notice.
Caffall's mother Linda Weaver issued a statement through family attorney W. Tyler Moore indicating her son, whom she called Tres, was "ill" and saying the family was "shocked and devastated by the tragedy."
And now, we're back in the gun control debate! What sort of reforms should the U.S. enforce to significantly lower gun crimes? Feel free to shout out your opinions below!
Source: CNN
Image: The Guardian