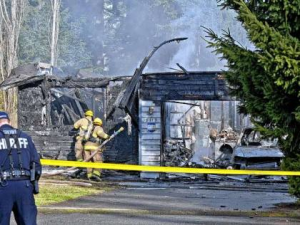 Minutes after locking out a social worker who'd brought his two sons for a visit, a man in Washington state blew up his house on Sunday — killing himself and his boys, whose mother went missing more than two years ago, a sheriff's spokesman said.
Pierce County Sheriff's Department spokesman Ed Troyer told CNN that the explosion "was done intentionally," saying Josh Powell committed a "double homicide" in addition to killing himself.
Days earlier, in an affidavit seeking custody of the children, Powell said that he had proven himself as a "fit and loving father who provides a stable home even in the face of great adversity." On Sunday, authorities said Powell met a foster-care worker who had brought his two boys — ages 5 and 7, having both celebrated birthdays in January — to their father's residence for what was supposed to be a supervised visit.
As the children got close to the door, Powell brought them inside but prevented the case worker from getting in as well, according to Troyer. She tried "pounding the doors, trying to get in," with no success, he added. The case worker reported smelling something similar to gas, said Graham, Washington, Fire and Rescue Deputy Chief Gary Franz. About two minutes later, as she was calling her supervisor, the house exploded.
While a medical examiner had yet to definitively identify the bodies, the sheriff's spokesman said Sunday night that "we believe it is the three of them" — referring to Josh Powell and his two sons.
Source: CNN
Image: NY Daily News